Home theater technology has never been better — today you can even exceed the audiovisual quality of your local cinema. Whether you want to host the perfect film night, entertain after a dinner party or simply keep the kids quiet for a few hours on a rainy afternoon, there's a home theater solution out there to suit your needs. Here are 10 suggestions from Malcolm Stewart and our friends at Houzz for bringing Hollywood magic into your home.
New Strategies for Hiding the TV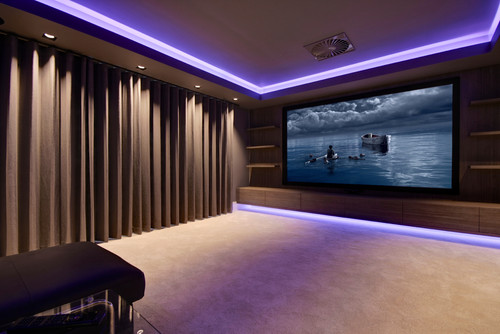 1. Designate a room. For those with the space to spare, nothing beats having a separate cinema room in your own home. It's a surefire way to make any film night you host unforgettable. Be warned, though: Your guests will be so impressed, you might have a hard time convincing them to leave!
2. Hide your projector. Another way to have the technology of our dreams without compromising on style is by using a motorized projector lift. It's even possible to activate the lift from an app on your smartphone.
A projector can be concealed in the ceiling or in a tabletop. Then, whenever you want to watch a film, your living room or kitchen can be transformed into your own private cinema.
With a motorized projector lift, having a device that works quietly is essential. The experience isn't quite so magical if the motor is too loud or the hinges squeak!
Theater 2: O'Brien Hi-Fi, original photo on Houzz
Consider having your screen mounted on the wall, instead of perched on top of a cabinet. This way the screen will be less obvious and the space can be used like a typical living room, with the option of enjoying a superior home cinema experience when you have a film to watch.
4. Keep the screen hidden, too. It's not only the projector that can be concealed, but the screen itself. With a motorized projector lift, some ceiling-integrated speakers and a drop-down projector screen, the transition from living room to home cinema can be as smooth as it is impressive. The space freed up while the screen isn't in use can be used to display artwork or any other more aesthetically pleasing pieces.
Theater 3: Hill Mitchell Berry Architects, original photo on Houzz
5. Choose 7.1 surround sound. The latest in surround-sound technology requires eight separate audio channels to truly immerse viewers in the film. But it can be difficult to decide whether you should try to disguise the speakers or make them a feature of the room.
Plenty of speaker manufacturers make devices that both sound good and look beautiful. Wood paneling offers a great combination of acoustics and aesthetics. Remember to check the wiring options when looking to make a purchase — no matter how good the speakers look, a tangle of cables is always a turn-off.
Theater 4: Inspired Dwellings, original photo on Houzz
6. Put speakers in the ceiling. You can have an entire sound system completely hidden from view with ceiling-integrated speakers. This is an excellent way to have high-fidelity audio and free up space in your home to get creative with your design.
When it's time to watch a film, speakers integrated into the ceiling make viewers feel as though they are right in the middle of the action — perfect for a nail-biting thriller or spellbinding fantasy flick.
7. Tuck away your TV. While a drop-down projector screen is great, it doesn't get much more impressive than an entire drop-down TV. No matter its weight or angle, an experienced professional can mount a television wherever you want it.
This is another option for those who want to make a seamless transition from dinner party to film night. When the after-dinner conversation reaches a natural lull, you can adjourn to the living room and relax with the latest Hollywood hit or cult classic.
Theater 5: Adapt Integrated Systems Ltd, original photo on Houzz
8. Integrate your lighting. Home automation can help replicate that real cinema experience by adding those special touches, such as lights that automatically dim when the film begins, or LED step lighting that comes on when the film is paused for a bathroom break.
Lights and film have always gone hand in hand — a smart host, like a smart director, should use lighting to create the perfect atmosphere for a film.
9. Sort your seating. What good is a home cinema without cinema-quality seating? With a home control system and D-Box technology, you can have your seating rumble and vibrate in time with the action up on the big screen!
Another option to consider, especially if the room will be used by children, is soundproofing. Not only does soundproofing mean you can turn up the volume; it also ensures that the little ones' shouts of excitement won't be heard by anyone next door.
Theater 6: M.E.G.A. AV Installations Ltd, original photo on Houzz
10. Link multiple screens. If you have multiple TV screens, then it's likely you'll want to have access to the same channels, content and films on each screen. Traditionally, this required multiple (and messy) set-top boxes and complicated subscriptions, but now centralized TV distribution offers a more elegant solution. It allows you to store all of your television sources and subscriptions in a separate A/V rack. The content can then be sent directly to any screen in your home in high definition.