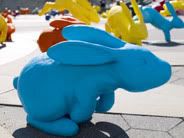 In the U.S., Sony has just added a new commercial to our series of TV spots focusing on how high-definition is part of our DNA. The latest is an adaptation from a popular series created by our colleagues in Europe for BRAVIA flat-panel LCD televisions. It features a backdrop of the Rolling Stones singing " She's A Rainbow" as hundreds of colorful Play-Doh bunnies run all over the city of New York, eventually evolving into the equally colorful HDNA "molecules" that are part of our current campaign here in the States, along with the word "color" and the tagline "Like No Other."
While the HDNA molecules and the line "Like No Other" were developed by the U.S. team, this latest spot is a sequel to a series that began a couple years ago in Europe. The first one featured thousands of rubber balls rolling down the hills of San Francisco to the tune of a new artist,
Jose Gonzales
, singing "HeartBeats". It was followed by another equally dramatic one based on tons of paint of all sorts of colors being splashed on skyscrapers in the city of Glasgow.
Interestingly, the spots, which can all be found at
www.Bravia.Sony.eu
have attracted huge attention on the Web, with millions of people viewing these commercials…not to mention the global press coverage they have received.
I tip my hat to the creative folks at the London ad agency Fallon who have been working with our advertising and television marketing people in Europe. The commercials are clever and fun, with great music scores. Check them out and let me know what you think.